Christmas Origami!
Christmas Origami is such a wonderful activity for Christmas time... creating something beautiful with your very own hands while being with your loved ones – just perfect for this time of year!
And the best thing about origami decorations and gifts is they are so cheap to make! Most of the models in the pictures below are made with scraps of gift paper, and leftover origami paper... and yet they look so lovely!
Christmas is about giving your love and your time... so spend some quality time with your loved ones creating origami, and you'll find out for yourself what an enjoyable activity it is!
On this page you will find all of these wonderful origami models to make and share, just scroll down to browse through! :)


Make A Mini Christmas Tree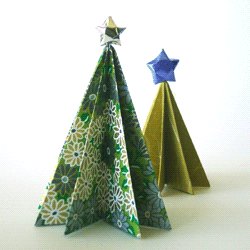 This gorgeous little tree is made with a 15 x 15cm piece of origami paper (the larger one in the pic) - but any paper will do, of course. Gift wrap, printed origami paper, or even brown paper looks lovely, especially when your tree is decorated with lucky stars (for instructions on how to make lucky stars, scroll down).
This mini tree can be a centrepiece for your dining table, or a decoration for your mantle or coffee table. I think they make wonderful gifts also - especially if you're trying to keep costs down! To make this tree more durable, and last longer, you can spray it with a spray varnish - from a craft or hardware store. The lucky star is just pinned to the top of the tree with a long thin pin.
Instructions for the Christmas tree/pine tree can be found here.


Lucky Stars To Decorate Everything!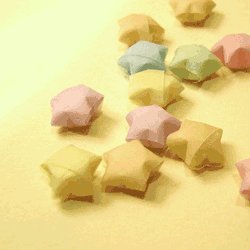 Origami lucky stars are made with strips of paper, and are wonderful not only for topping your mini christmas tree, but for decorating everything! You can glue them to gifts, gift boxes or cards, or you can make dozens and string them together to hang on your christmas tree. They look wonderful in metallic paper, but any colourful paper will make these beauties stand out!
Instructions for the lucky star can be found here.
Other stars you can make include the modular star (which can be any number of points you like - 4, 5, 6, even 10-pointed if you like!) and also the four-pointed star, which is a lovely traditional-looking model.


Gift Boxes For All Those Smaller Gifts
These christmas origami gift boxes are simply wonderful! To make a lid for the gift box, you make the box slightly bigger (eg 0.5 - 1 centimetre larger). If you make the box with patterned paper, I dont think it needs any extra decoration, but if you make it with plain, or white paper, you can top it with a gift bow (instructions are below) or even some lovely lucky stars (see above). The size of these boxes are only limited by what size paper you have - but if you're making larger boxes than can be made from a sheet of office-sized paper, you may need stronger paper/card.
Instructions for the origami box can be found here.


Gift Bows To Adorn Your Presents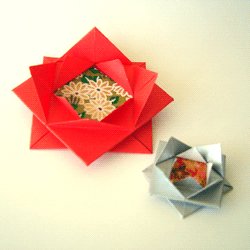 A wonderful way to decorate your gifts, the christmas origami gift bow can be made with metallic or plain paper, or patterned. I think they work the best with double-sided paper - with one of the sides patterned - then you can have the patterned side showing through the middle, like in the images.
Instructions for the gift bow can be found here.


The Flapping Bird Makes A Lovely
Christmas Dove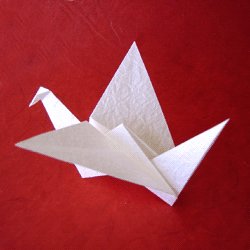 I think the traditional flapping bird looks just like a Christmas Dove, and its wonderful as the bird can flap its wings - so kids love it! The flapping bird is not the same model as the crane, though it looks similar. Textured white paper, if you have any, makes a gorgeous bird, though as it is white, you can just as easily make it with printer/office paper. How easy is that?!
Instructions for the flapping bird can be found here.


Christmas Envelopes For Cards And Gifts
To hold presents or cards, these envelopes are far more special than plain old envelopes! The great thing about this particular model is you can make the envelope long and thin, or almost square, depending on what dimensions of paper you use. A square piece of paper will make a long envelope, while a piece of paper that is much taller than it is wide will make a squarer envelope.
Instructions for the bar envelope can be found here.


Silver Star Flowers Are Beautiful And Unique!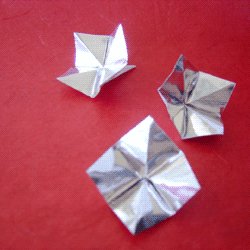 These beautiful little flowers look just like shining stars, so are fantastic to decorate you tree, table, or gifts with. These ones are made with foiled paper, but metallic gift-wrap works well, and you can even use kitchen foil if you like!
Instructions for the star flower/blossom can be found here.
---


Some Fantastic
Christmas Origami Videos...
A Beautiful Snowflake
Pandora's box
A Complex Christmas Ornament
---
Free Printable Christmas Origami Paper


Click here to download 10 free printable paper designs


Click for ideas about how to get free and cheap origami paper!
---
You Might Also Like:
Types of Christmas Origami Stars You Can Make