Origami Envelope

This fantastic origami envelope is great for so many uses! If you're a beginner, follow the instructions below slowly and carefully, as it has a few challenging folds in it - but it is well worth the effort. Good luck!

Click Here For Origami Envelope Instructions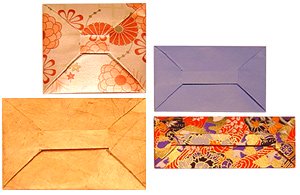 I've used this envelope for Christmas gifts, birthday cards, tokens and little notes - it has to be one of the most useful origami folds I know! When you give a gift or a card to someone in a hand-made envelope, think of how much more special it is to that person!
Use some fancy or textural paper for a lovely effect - but even plain white paper looks great for this design!
For some ideas about cheap and free origami paper, click below: