Origami Envelopes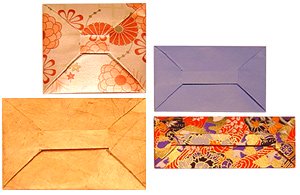 The design used to make all of these origami envelopes above is called the bar envelope, and it's the nicest envelope I've found. Click below to go to the instructions page - where you'll also find a link to a printable pdf:
Click Here For Instructions To Make Origami Envelopes

The great thing about this design, which is unique to this type of envelope, is that you can use any size rectangle to make it, and it still works!
That is, you can use a square piece of paper, and you will get a long thin envelope - like the red envelope on the bottom right, or you can use a tall thin rectangle of paper to get an envelope that is almost square - like the envelope on the top left. Great, hey?!
For some ideas on how to find great free or cheap paper to make origami with, click here. And if you subscribe to the Origami-Fun Newsletter, you'll receive a free ebook and 10 printable paper designs - so you can print origami paper at home!
Subscribe to Origami-Fun Newsletter
There are dozens more fantastic diagrams on Origami-Fun - Click below to see the complete list: