Subscribe to the Origami-Fun Newsletter and get a FREE eBook!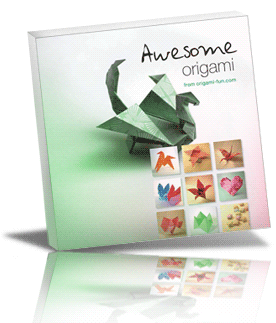 Subscribe to the Origami-Fun newsletter, and you'll be the most knowledgeable Origami Folder around! You'll receive automatic updates of new diagrams on origami-fun.com, as well as notifications of when new videos are uploaded...
As well as that, you'll know all there is to know about the origami world... all the best diagrams, pictures, videos, and the best places to go to see incredible origami and new ideas.
And as a special thankyou for being part of the origami-fun family, I'm giving away my book - AWESOME ORIGAMI - for Free!
(I'm not finished) I've also designed some exclusive printable origami paper for you too - 10 beautiful sheets which you can print on your own printer. So don't ever think you don't have any origami paper! It's right here, you just need to print it!!
ENJOY! Simply enter your name and email address in the box below and I'll email you the download page for the ebook & printable paper. And you can look forward to receiving the latest info from the origami world!
Here's a summary of what you'll receive via email:
• Your subscription to the origami-fun newsletter, where you'll get the latest news, notifications of new diagrams and videos, insider tips to the best origami AND you'll receive from time to time special offers and discounts on origami products.
• A FREE eBook AWESOME ORIGAMI, which you're sure to love...
• AND a selection of exclusive printable origami, designed just for members.
Subscribing is easy and free.
Just enter your email and name below to get your gifts!