Origami Butterfly
Instructions Video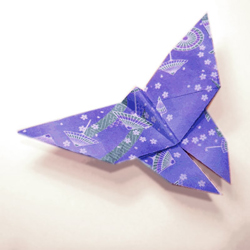 The origami butterfly instructions below will teach you how to make your own beautiful butterfly in minutes! This origami model is quite simple - you will be able to fold this no matter what level you are at!
Butterflies have many meanings within different cultures. They are believed to represent life, beauty, joy, freedom, transformation, new beginnings, rebirth and longevity. Some consider them a good luck charm while for others they are a symbol of love.
Folding the origami butterfly is a fun activity you can do with your friends and family. Parents and teachers can teach this craft to children to help develop their creativity, enhance their memory and improve their concentration.
Watch the video below and make your own beautiful butterfly!
Click Here To Print Origami Butterfly Instructions
If you're just getting started with origami, this is a good project to start with. It's best to use larger paper at first so it is easier for you to fold accurately, and then you can start making them smaller.
You can use any type of paper you wish, either plain white, coloured, or printed on both sides. If you don't have origami paper, you can use a piece of regular paper and decorate it with markers later, or have a look at these other ideas for origami paper:
I love making these butterflies in groups, lots of different colours and sizes. The simplicity of the design means you can make them quite small, which is always really cute!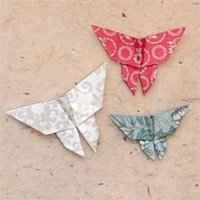 Origami butterflies are perfect decorations for handmade greeting cards and envelopes. You may also use them as ornaments on indoor flower pots or wrapped gifts for baby showers, weddings, or other special occasions.
I saw a beautiful idea for these butterflies in a shop the other day - it was a butterfly mobile! About 20 of the butterflies, all made in different but complementary papers and strung together. What a lovely idea!
Go ahead, have a go with this design and get creative. If you're looking for something you can print, you can get the diagram here:
Printable Origami Butterfly Instructions
Share Your Own Origami
If you'd like to share a butterfly that you have made or any other origami design, you can upload a photo by clicking the link below... And also check out what other people have made!
Some butterflies made by Origami-Fun visitors:
A Butterfly by Grace from Australia
Origami Sakura and Butterflies by Maria