Origami Rose Instructions: Robyn's Rose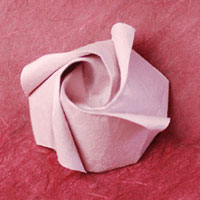 Check out these easy origami rose instructions and easily make this beautiful paper flower! Robyn's Rose is a simple version of an origami rose. Unlike most variations, such as the famous Kawasaki Rose, this design is much easier to create! So give it a try!
Everyone loves flowers, especially roses. They are perfect gifts for almost any occasion. If you make your own, it is something you put much time and effort into, and that makes it even more special :-)
Did you know that different rose colors convey special meanings? Make your message known by choosing a shade that best represents your emotions. Red means love and respect; white symbolizes purity and innocence and pink represents elegance and simplicity. Other colors are yellow, which expresses joy and friendship while peach conveys sympathy and gratitude.
Let's get started and watch the origami rose instructions to see how it's done!
Things You Will Need To Make This Rose
This origami rose can be made successfully with a variety of different papers. You can create a more realistic looking rose by using glossy, brightly coloured origami paper... or if you want something more creative, you can use different patterns to produce abstract designs.
Aside from gifts, this design is great for table decorations and wreaths. Some people like to make jewelry with origami. If you make this lovely rose small enough, it would work beautifully as little earring studs.
Another nice idea is a rose brooch - just glue the rose to a brooch backing. You can easily buy the backings/findings you need for these crafts on Ebay!
Printable Instructions
The printable diagram for Robyn's Rose will be available soon!
Or, if you would like to try other great origami flowers, check out this page, it has a whole range of different flowers to choose from:
Folding this design may be a little challenging if you are just starting out with the craft of origami. You may need some experience to twist the paper into proper shape and form, or you may not! It depends on the person, some people find this model easy to make on the first try, but most people may have to have a few goes at getting it right! Origami is about patience.. so dont get frustrated if you cannot get it straight away, just try again!
Share Your Own Origami!
People love origami flowers in general, but roses particularly! Have a look at what some origami-fun.com visitors have been making:
If you have made an origami rose, or another origami flower, or any sort of origami design at all, we would love to see it! You can upload a photo to share with the Origami-Fun community here: