Origami Candy Dish Video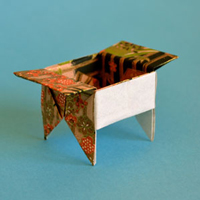 Watch the Origami Candy Dish Video below to quickly and easily make this lovely little dish! You dont have to use it for candy either! It's a great, versatile little container for all your bits and pieces!
Of course it does look ultra gorgeous will lots of colourful candies in it! Or lots of colourful boxes with lots of colourful candies! You can make a whole sugary spread!
Video Instructions
Click here to see the diagram instructions for the Origami Candy Dish Video
What Paper Do I Use For The Candy Dish?
If you want to use standard, one sided paper with a white back, be aware that the white side of the paper will show - as you can see in the video. This can, of course look really nice if you choose the right paper, but if that sort of look is not what youre after, then I would suggest 2 sided paper!
Also this design works out smaller than you would expect, ie, a normal sheet of origami sized paper that's 6 inches square, or 15cm square, makes a candy dish that's 7.5cm long from tip to tip, the box part is 4cm!
So I would suggest getting yourself some large sheets of double sided paper, and it works out so beautifully!
Other Containers and Boxes
There are many different box designs on Origami-Fun.com - to see all of them, have a look here:
Depending on what you're after, the simplest design is probably the triangle box - it is made with small modules that are slotted together at the end.. so to make a triangular box you will need 3 small sheets of square paper for the 3 sides of the box. 
However, the triangle box is a very interesting design! You can add more of the same modules to add more sides to the box! Have a look at the triangle box here:
If you are wanting to make a box with a lid, I would recommend the Simple Box design, or Masu Box as it is also known. You can simply make a slightly larger box for the lid!
Share Your Origami Creations!
If you'd made a piece of origami that you are especially proud of - doesnt matter what it is - would you like to share it with us?
You can upload you photos that may be displayed on Origami-Fun.com! We would love to see them! Click the link below to upload your photos and description and to see what other people have shared: