Easy Origami Flower

The origami blossom is a great easy origami flower: one of the simplest models to make, and it looks so sweet! For a beginner at origami, it's a great place to start. Its best to make the blossom with double sided paper, different colours on each side if possible!
Click here for the Origami Blossom Instructions or...
Watch the origami Blossom Video
Origami Blossom Hints...

One thing you can do to for an extra special display is make a few of them and put them together in a bunch! You can also use wire to display them if you like, the look very effective standing tall in a table display.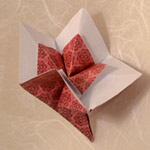 Another trick to make this easy origami flower look great is to make a smaller one to fit inside the bigger one: this creates a lovely effect, and looks like the origami model is a lot harder to make than it is!
There's really nothing to it: just choose another colour paper to go with the first one, then cut the paper into a smaller square, and make another blossom!
It really doesn't matter how much smaller you make the inner flower as any size looks great.


Another Easy Flower - The Origami Lily

Now if the origami blossom is too easy, or if you want something really impressive to display, then try the Origami Lily. It's absolutely beautiful. It's also known as the Iris, but it doesn't matter what you call it, it's still gorgeous! This is a little harder than the blossom, and it takes quite a bit longer, but I promise you, it's worth it!
If you are a beginner, I would say that you can still do the lily, but I have an important tip: Make sure you follow the instructions!
People get stuck with instructions because they try to skip ahead and guess what's going to happen… but every word in the description and every line in the picture is important: so take it slowly, and be patient. Look at all the information in the instructions and persist! It doesn't matter if it takes a couple of pieces of paper for you to get it right: part of great origami is the challenge of the instructions!
Now go make some origami!!!