Origami Blossom Video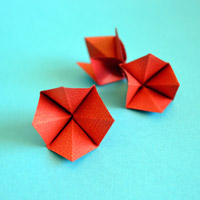 Watch the origami blossom video below and begin making your very own gorgeous blossom flower in seconds!
The Origami blossom is one of the easiest and quickest of the origami flowers to make - but that doesn't mean that it's not the best! It really is one of my favourites, for exactly that reason. I feel that it's its simplicity that makes this design great. 

| | | |
| --- | --- | --- |
| | The blossom works with the Origami Leaf too - a simple and perfect complement to this gorgeous flower | |
Scroll down past the video for some extra tips about making the blossom to its full potential!

Origami Blossom Video Tips

Make the blossom with delicate paper and it will enhance it's beauty even further! A thin or tissue paper looks lovely, as does unryushi, a traditional origami paper that you can buy in specialty paper stores or online.
Another fantastic idea is the double blossom! Its something you can't do with many flowers - and it does make it look more impressive and complex (if that is the effect you want)… Use a different colour or even the same colour paper, it doesn't matter, because both ways look wonderful!
Personally I love the simplicity of the plain white or pale pink blossom. But it is so versatile, you can do so many things with this little beauty!
This is a photo of a double blossom
- a smaller blossom inserted into the centre of the larger blossom

Other Origami Flowers

If you would like to make a harder flower, there are plenty to choose from on Origami Fun! Have a look at the video page to watch a video, or to get diagrams, check out this page:
Have You Watched The Origami Blossom Video And Want To Make More?
Share Your Origami Creations
Have you made an origami blossom, or any other origami model that you are very proud of? We would love to see it! Click the link below to share your story and a photo, and to check out what other people have been making too!