Why I Now Love Paper!
by Liana Hernandez
(Albuquerque, NM, United States)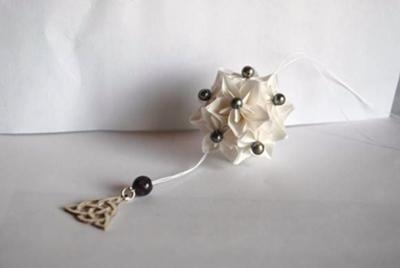 I used real pearls, an amythest bead, and a silver celtic knot.
A few years ago, about four, I was in middle school. One week I got sick and had to stay home for about four days. I've always known how to fold some origami. My mother was a nurse to a Japanese family for a few years, and taught the little origami she knew to me and my brothers...


This week though, I found a book! Makoto Yamaguchi's Kusudama: Ball Origami. I went wild. I was sick enough that I couldn't pay attention to a book, but I was able to fold. I certainly did. I probably made almost all the balls in Yamaguchi's book that week. I haven't stopped since!
I love to fold so much it is as much a part of me as reading and writing at this point.
Last summer, my folding took another step. While helping a friend move their Dojo I found a multi-unit origami wheel, which I asked to take and reverse-learn how to fold. A while later, I realized that I could miniaturize it. I folded a tiny wheel, small enough to make into an earring. When I realized that I could miniaturize other kusudama's I went into another folding frenzy. At this point I am professionally selling my origami earrings!
I'm a freshman college student, and origami at this point is helping me to not only support myself, but also to learn. I have turned to origami as a solace in times of personal difficulty, and I can't imagine my life now without it.