Origami Tulip Instructions Video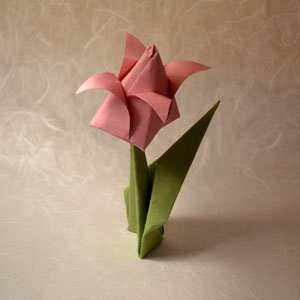 The origami tulip instructions below will have you making your very own tulip in minutes! This tulip design works perfectly with the origami flower stem, as it is pictured - you will find a link to that below! The combination of the tulip with the flower stem that stands up is just gorgeous! I would encourage you to make both!
Click the link below to take you to the instructions for making the complimentary origami flower stem: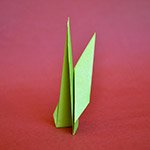 Origami Flower Stem Instructions

Scroll past the video for some extra tips on how to inflate the tulip if you are having any problems with this step.


Tips for Inflating the Tulip

To make the tulip, there is a step where you have to blow into the flower, inflating it - this works best if the paper you are using is not to thick or heavy- that's not to say that the tulip wont work with thicker paper, because it still will, it's just that the inflation step is easier with thinner paper. So see how you go, and if you are having trouble with this step, just try a thinner paper, like gift wrap for example.
Diagram Instructions

There are diagrams for this model and the flower stem that goes with it - if you would like to have a look just click on the links below… On these pages there are also printable pdfs that you are free to download for your own use. Enjoy!
Origami Tulip Instructions Diagrams
Other Origami Flowers

There are quite a few origami flowers on Origami-Fun.com - if you would like to watch videos of them, you can have a look at all of the videos here by clicking the link below, or if you would like the diagrams, you can browse through them by clicking the bottom link:

Watch Other Origami Flower Videos Here

Share Your Origami Photos
If you have made a tulip or another flower, please show us! We would ll love to see your creation! You can upload a picture of your achievement below! You can see one beautiful example of some flowers that an Origami-Fun visitor has been so generous to share with us, thank you Katya!
Share Your Origami Creations Here!
Origami Tulips and Flowers by Katya