Origami Paper Cranes
Did you know that making 1000 origami paper cranes will bring you luck? The Japanese legend goes that if you fold one thousand cranes, you will get a wish! Click below to learn to make a crane:
Learn to Make Origami Paper Cranes
Making 1000 cranes is called a Senbazuru, and is usually displayed with vertical strings of 40 cranes on each string, there being 25 such strings. There is a bead at the bottom of each string, beneath the last crane, to prevent it falling off.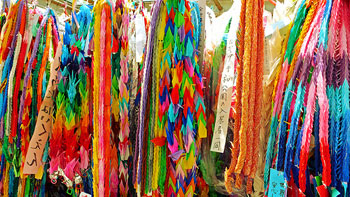 Senbazurus hanging. Image courtesy Rosemaninovich's Flickr page


In Japan, there are a few reasons why you would make Senbazuru- as a wedding gift to a couple, or as a gift from an young girl to a boy she admires. People who are ill sometimes make 1000 cranes, as in the case of Sadako - a sad story about a Japanese girl who developed Leukamia from the atomic bomb blast in Hiroshima in World War II. This story has made the thousand cranes a symbol for world peace.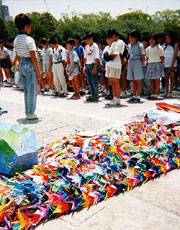 Japanese school children dedicate a collection of paper origami cranes they are delivering to the memorial for Sadako Sasaki in Hiroshima Peace Park. Image Courtesy Andrew Dunn, Wikimedia Commons.


There are many other traditional origami designs on this site - to view the complete list, please click on the link below:



See The Full List Of Origami Instructions