Origami Dragon Head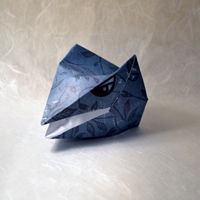 This lovely little Origami Dragon Head is a GREAT design for beginners - some origamists may want to be able to make a dragon but perhaps need to start with something a little simpler first!
With his pointed snout, his ridged face and his 2 horns, he has a very reptilian face! And of course you can add some eyes to his face if you wish! A really fun little design.
Scroll down to below the video for a link to the diagram for this model.
This is a great origami model to make, because you fold it all up and the the last step you pull on the sides of his cheeks, and the head just inflates by itself! I love it, it's great!
The winged Origami Dragon that can also be found on origami-fun can be quite challenging for a beginner! So I would definitely recommend starting with this model first!
Click to see diagram instructions of the origami dragon head which can be viewed on the website, or downloaded and printed (for free!)
The Best Paper For This Design
Many different papers work really well for this model - it is a very versatile design. My recommendation would be if you can find some snake print or scaly patterned paper that would be perfect! It works absolutely fine with normal office/printer paper, and also works well with the thinner "proper" origami paper.
You could definitely try this design with paper that is heavier in weight (thicker) than office paper, but its my preference to use a thinner paper if I can.
These images below are links to some open-source images that you can print to make an awesome origami dragon head!
Lacertae Skin from wikimedia commons

Snake Skin from Stock Exchange
(you may need to sign up for a free stockexchange account to download this image)
Share Your Origami!
Have you made any origami dragons or dragon-heads? If you have, we would love to see them and share them with the origami-fun community!
Click here to upload your photos and see what others have made!