Magic Cube Rose Diagram Instructions
by Joel Sampson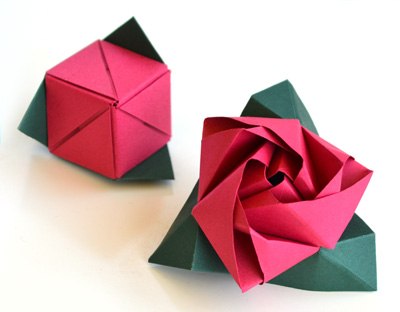 This is the cube rose when it is closed, and when it is opened!
This model was designed by Valerie Vann ... and then Joel created this new set of diagrams for it
Hi everyone! This is Robyn from origami-fun... I'm submitting these diagrams on behalf of Joel Sampson, who very generously created pdf instructions for the Magic Cube Rose, and emailed them to me so everyone on origami-fun can enjoy them! You can see the diagrams below, or you can download a pdf of the instructions at the end of the page.


Also, if you want to watch the original video of the Magic Cube Rose, the link is at the bottom of this page too...
Please leave a comment for Joel, as he has spent a lot of time creating these instructions! He noticed that many people were watching the video for this great model, and they were asking for some written instructions to go with it. We're all very grateful :)
Thankyou so much Joel!!
And if you would like to watch the original video that was posted to www.origami-fun.com, please click the link below to go to "Passionate Rose" which was submitted by Cássio Conti.
Passionate Rose Video
Remember to leave Joel a comment for his generous work!!