How 1000 Origami Horses Became a Herd of 2000
by Carol
(Georgetown KY)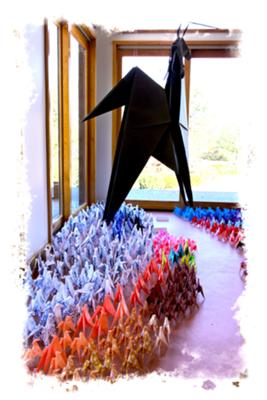 Herd of Paper Origami Horses
My town was host to the World Equestrian Games. Expecting over 350,000 world visitors to the Bluegrass, I wanted to plan an event at the Kentucky Japan Friendship Garden: Yuko-en on the Elkhorn, that would show the connection between the horse in Kentucky and the horse in Japan.


Using a simple pattern of the flipping origami horse, another artist and I taught over 472 people how to make origami horses. My target was to end up with a 1000 origami horses and then to create the largest single paper origami horse in North America.
Everyday bags and boxes of origami horses mysteriously appeared at a local art center, and at my side door. Schools all over the county called and wanted their students involved in making origami horses. The library sponsored a workshop and weekly origami sessions and before we could count to a thousand we realized that one thousand had morphed into two thousand and our 6 ft 3 in horse had a companion that was 9 ft 8 in tall!
Students from our local high school enthusiastically rose to the challenge of helping us create two giant origami horses. With the help of many stalwart volunteers we installed, at the villa in the Japanese Garden, 2000 brightly colored and pattered horses and 2 large origami horses.
They went on display on Sept 24 thru Oct 10, a testament to the belief that everyone wants to be part of an origami dream. The youngest origami participant was 5 and our oldest was 83. We have decided to keep the horses in place at the Villa for another couple of weeks so that even after our world visitors left visitors to the Garden would have a visual treat: swirls of origami horses placed in, under and around the giant ones.
Once it is time to take the installation down, we plan to box the horses up and send them to hospitals and other facilities in the region so that others may enjoy them.
It was a project that captured the imagination of hundreds of county residents and then thousands more when they visited the Japanese Garden in the Bluegrass.
They are dream like, floating on the floor of the villa, over shadowed only by the larger origami horses, so large in size that visitors at first glance into the villa are unaware that they are there. Once discovered there are ahs, and gasps, and peels of exclamations of wonder. Our gift to our world visitors in the end became a gift to ourselves.