Dino Land
by Pip Harrison
(Blantyre, Malawi)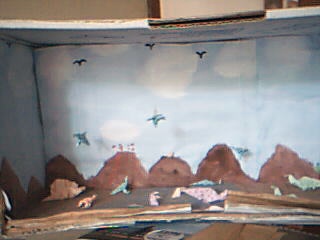 Dino land
My best friend Stefan and I decided to make a dinosaur world out of the brand new origami paper and dinosaur book that I had been given for my birthday.


I started making the smaller dinosaurs, such as the dinosaurs in the distance, and the flying dinosaurs while Stefan made the bigger water and land dinosaurs. Once we had finished creating the dinosaurs I went in search of a suitable box. I found one; it was perfect for what we needed it for. We cut it a little and then started the landscape.
We found some plain white paper and painted mountains, a volcano, a lake, some dry ground and some clouds and birds. Next we stuck the pieces into the box and assembled the dinosaurs; we attached the flying dinosaurs to the roof of the box with string and cut up some of the water dinosaurs so that it looked as if they were partly under water.
Two years later I found it covered in dust. I dusted it off to find that it was still in good condition. It is my favourite origami experience because since making it my best friend Stefan has left Malawi, where we lived together for 6 years, and returned to his home country of Germany. It brings back memories of a happy friendship! It is also one of my favourite creations because it was the catalyst for my love for origami.