Hi Everyone!

It's been a while since I've last emailed you so I hope you're going well! :-)
I wanted to let you all know that I've been uploading some great new stuff to Origami-Fun! I've created new high-quality videos for just about every diagram on the site.. and some very special ones too!
Before you check them out though, I just wanted to share some new features you'll notice on Origami-Fun.com...
- You can now leave comments after each instruction page! I'd love to hear from you, so let me know what you think of the videos by leaving me a comment :-)
- You can also "Like" the website on Facebook. This is a great way to share the diagrams with friends and family!


Ok, now for the videos!
First we have the awesome Dragon. This one takes a while to make but it's well worth the effort! This model is exclusive to Origami-Fun.. you won't find it anywhere else!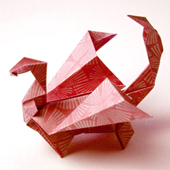 Secondly, there's the Cat. This is a really popular one, and a lot of fun! This one is also only on Origami-Fun and you can watch the video right here:


Next we have the Tulip. This one is really pretty, and one of the most famous of the traditional origami designs, so if you haven't made one before, I definitely recommend it! :-)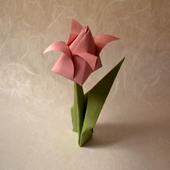 Now, these are just three of many. If you want to see all of the videos you can watch, go to this link: BROWSE ALL VIDEOS

And if you have any thoughts or questions while doing any of the diagrams, remember to let me know by leaving a comment!


More Exciting Stuff On The Way
Over the next few weeks there will be some very exciting developments at Origami-Fun.com.

To give you a taste of what to expect...

- Lot's of brand new Origami diagrams for you to make

- An iPhone and Android app to carry Origami-Fun around in your pocket. (this will be ready really soon!)

- A massive update to the Ultimate Origami eBook (For current customers, we will be taking care of you!)

- Plus LOTS more :-)


Your Amazing Origami
It really blows me away some of the incredible Origami models you guys have been making :-) Just to share a few of the beautiful models Origami-Fun users have submitted recently:



… but there are literally hundreds more, so you can browse through all submissions here:


Your Amazing Origami Creations

Well that's all from me! Hope you enjoy all the new videos, and happy folding!

Robyn
Origami-Fun.com